Ultrasmall negative ion generator Trustlex
Ultrasmall negative ion generator Trustlex

Emits about 690.000 negative ions per cubic centimeter

IONION MX has made more powerful
:
IONION MX
Ultrasmall negative ion generator Trustlex
Emits about 690.000 negative ions per cubic centimeter
IONION MX has made more powerful
Suffers from hay fever

Drives for extended periods

Gets easily irritable

Suffers from asthma

Concernet about second hand smoke

Uses computers for extended periods

Onboard airplanes or bullet trains

Bedside during sleep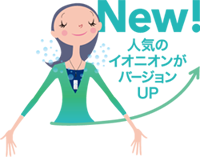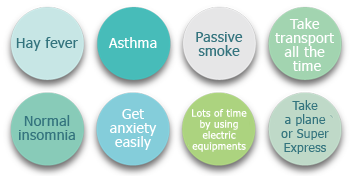 Chemicals and other substances such as dust, viruses, pollens and fine particles (PM2.5) floating in the air are positively charged. People also tend to be positively charged in the modern lifestyle surounded by electrical appliances and synthetic fibers.
Such chemicals and other substances are in a suspended state all the time
As a result, we live in an environment where we liable to breathe in such substances
The primary function of general negative ion generators sold in the market is to neutralize this positive charge only. On the hand, IONION MX is an ultrasmall negative ion generator that can protect a user from chemicals and other substances by wrapping their bodies with an ion barier, using patented technology that makes the surface of the body negatively charged
《 Recommendation 》
Blue Clinic Aoyama
Director of Naito General Medical Center
Mareo Naito, M.D.
"I am an IONION user. I was amazed by the high effectiveness of IONION as a fast-acting remedy for hay fever, from which I suffered for a long time. I recommend IONION to all my patients as well as our staff at my clinic."
《 Blue Clinic Aoyama 》
My clinic aims at producing the optimal effect through a combination of several benign treatment methods such as special diets, supplement regimen, infusion therapy, deep thermotherapy, wave therapy, aromatherapy, hormesis therapy, and hydrogen gas therapy. We work together with our patients and their families to focus on the treatment that is the highest priority for each case.
EMITS ABOUT 690.000 NEGATIVE IONS PER CUBIC CENTIMETER. NO HAZARDOUS OZONE OUTPUT
High effectiveness of IONION MX as a fast-acting remedy for hay fever, from which I suffered for a long time. I recommend IONION MX to all my patients as well as our staff at my clinic."
The measurement result of the ozone output is less than 1/100th (0.001ppm) of the safety standard value stipulated by the Ministry of Health, Labour and Welfare of Japan.
Conceptual image→
PATENTED ION POWER METAL!
This unique feature is provided on the back of IONION . Small mesh window:
The ion power net is a patented technology that amplifies the amount of ion emission and wraps an ion barrier around you by infusing your body with negatively chargedions when you wear IONION LX. This technology drastically improves the effect when you wear IONION LX.
【 Functions of ion barrier 】
1) The ion barrier makes it possible for airborne substances within breathing range to become negatively charged more easily. Since negatively charged airborne substances become heavier and drop to the ground, they are no longer inhaled through the nostrils like before.
2) It is reported that negative ions accelerate the metabolism of a hormone in the brain called serotonin.
Negative ions encourage the body to enter a relaxing state (parasympathetic nerve ascendant state). The ion barrier brings out the above effect to a maximum and evokes the sensation of being wrapped around with negative ions.
ULTRASMALL SIZE AND LIGHTWEIGHT (20g)
IONION LX is so light and small that you will hardly be aware of this unit even when you are wearing it around your neck or have it on yourself.
You can also put IONION LX in your pocket to use it.
Charging the unit with USB
An AC adapter with USB cable is supplied with IONION so that you can charge the unit from your computer besides the wall outlet.
CLASS 5 ION EMISSION
IONION is certified for Class 5 ion emission by the Japan Association of Ion Research & Application (JAIRA). JAIRA is a non-profit organization established in 2001 based on the premise that accurate measurement of ions will back up the ion industry. Owing to the significant efforts made by JAIRA, Japan has established the world's first ion measurement standards (JIS).
JAIRA conducts measurement tests based on JIS-B9949 and has certified IONION as a highly-reliable ion generation product.
All packages of IONION products are affixed with the "Ion certification mark."→
MEASURING TEST RESULTS OF OTHER MANUFACTURERS'S ION GENERATORS
The amount of negative ion emissions of other manufacturers' ion generators was measured and compared by JAIRA. All other manufacturers' ion generators claim that the amount of negative ion emission of their products is higher than IONION . However…
●Amount of negative ion emission

●Amount of positive ion emission

Highest:

IONION (690,000

pcs/㎤

)

2nd highest:

Company SP(76,000

pcs/㎤

)

3rd highest:

Company SM(480

pcs/㎤

) 

Lowest:

Company Tb(100

pcs/㎤

)

Highest:

Company SP(73,000

pcs/㎤

)

2nd highest:

Company SM(160

pcs/㎤

)

3rd highest:

Company Tb(130

pcs/㎤

) 

Lowest:

IONION ( 0

pcs/㎤

)
PRODUCT SPECIFICATIONS
  ● Product name:IONION MX
  ● Material of main body:ABS resin
  ● Color:Champagne gold
  ● Dimensions of main body:65mm (H) x 25mm (W) x 16mm (D)
  ● Weight of main body:Approx. 20g (including the supplied rechargeable battery)
  ● Power supply:Lithium battery, AC/DC adapter
  ● Ion generation indicator:LED light
  ● Operating environment:Temperature 0℃ to 40℃, Humidity 30 to 70%
  ● Amount of negative ion emission:Approx. 690,000pcs/cm3
    (Measured by the Japan Association of Ion Research & Application)
  ● Accessories:AC adapter (supplied with dedicated USB cable),
    Synthetic leather strap, Operating instructions
  ● Warranty:One year after your purchase only in Japan.
  【 Functions of ion barrier 】
  (1) Plug in the AC adapter to the connecter at the bottom of IONIONX and charge the unit.
    A pink LED lights while the unit is charged. The pink LED turns off when charging is completed.
    Unplug the AC adapter from IONION .      
  (2) Hang IONION around your neck using the dedicated strap (or put it in your breast pocket)
    and turn on the switch. While ion is emitted, a blue LED lights up.
    The blue LED turns off when the power runs out.